Most dear friends,
You may have noticed that you have not had a letter from me recently! I hope, selfishly, that you have missed me, one does like to feel appreciated – for there have, as a Judge might say, been mitigating circumstances for my neglect of you! The Theatre may have looked dark and solitary over the past few months – but believe me – inside there has been tremendous activity as we laboured to install new fire doors, fire cladding under the rake, new push bar exit, not forgetting to mention maintenance and repairs in order to provide you with a comfortable building to enjoy.
It is so good to meet with writers and poets, and wonderful, too, to see our ex youth actors, even if it is just bumping into them in a Supermarket like Tom Starnes who played Jack Worthing in The Importance of Being Earnest or when they just turn up on our doorstep like Beshlie Thorp – Katharina in the film of The Taming of the Shrew. Beshlie is in her final term (MA in acting) at the Bristol Old Vic Theatre School – having essayed the role of Mrs Beeton in a new Musical Mrs Beeton Says – and is now in rehearsal for Nicholas Nickleby (Dickens) in which she plays Madame Mantalini.
But, in the darkness, there is often light; and a meeting with a poet the other day has triggered new hope and expectation as – dear friends – he said he 'always enjoyed reading Horatio Nelson's blog!' And, he followed this remark with 'I have read your book!' Well, it's Jacky's book actually – What Country Friends is This? – about theatre life and the building of Llandovery Theatre, a love story – and what's more – the most kind poet added – 'I have read your book twice!' Well, with such a kind response to our writing definitely merited me getting off my celestial windowsill and writing to you all.
My, that did bring back memories for Jacky – who claims she read Nicholas Nickleby seven times when she was young! Questioned how this could be, she says she fell in love with Nicholas! The power of books and reading – for, to my certain knowledge she has been in love with Mr Darcy in Pride and Prejudice, as long as I have known her – but as this was at a later time of life, perhaps one should not censure her for infidelity! She didn't, as some have claimed, fall in love with Mr Darcy via the film and Colin Firth's engaging performance – she fell in love by reading the book, written by Jane Austen
Next to reading books, is the joy of writing them. Yes, it is absorbing and engrossing to be in charge of a story, sometimes not even knowing how it will end – except that in many cases – an abrupt – back to reality – shock on trying to get your creative 'masterpiece' published and read by anyone other than your kind friends. Jane Austen has trouble getting her work published. Can you believe it? Her book Northanger Abbey was bought by a publisher for £10 but he never printed it – and when years later she tried to get the book back, the publisher insisted she pay him £10 – and she didn't have it! Northanger Abbey was published – but only after her death! Wonder what Jane Austen would think of her picture on the £10 note today!
Another youth actor we 'bumped' into is Kerry Dainton. Kerry played Petruchio in The Taming of the Shrew, the stage version, and is now directing the Towy Youth Actors. She will be bringing them to Llandovery Theatre in a Variety Show performance 20th July next. If you would like to see her young performers, put the date in your diary – there will be a warm welcome here for you.
Horatio Nelson June 2019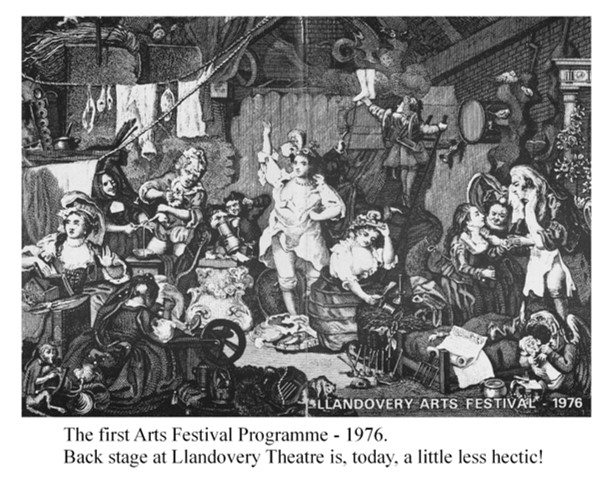 Like to contact us:  Llandoverytheatre.com    
email: jacky.barnes@btinternet.com
If you would like to read What Country Friends is This? It is available on Amazon.