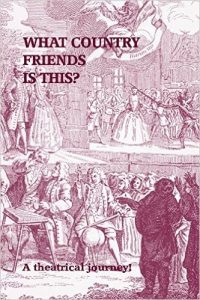 When they first met in the cellar green-room of the Colchester Repertory Theatre in 1962, there was little indication that Jaqueline Harrison and Simon Barnes were destined to build a Theatre in Wales, and manage and direct it for over 35 years.
Despite 'claim jumping' attempts, despite repeated rejections of finance, accompanied by Welsh Arts Council jeers – 'How do you think you can build a theatre WITHOUT the Arts Council?' LLANDOVERY THEATRE exists today.
Written by Jaqueline Barnes – these are the records of their journey – comic and tragic by turn, yet despite working alongside penury and rejection as an almost permanent way of life – dozens of plays were written, produced and performed and at the final 'parting' both actors still maintained their passion for the love of theatre, and their love for one another
A THEATRICAL JOURNEY!
This should be the theatre book of the year. an inspiring, entertaining and brilliant read …. Nick Simons – Actor
'Your love for the theatre and each other pours out of the book and is most moving, amusing and always gripping. Congratulations on it, Jacky, and what is represents. What a record! You have all my respect and admiration. ' Terence Frisby – Playwright
'Your book arrived today and has been DEVOURED. It is most beautifully and sincerely written in a quite different style from usual theatrical biographies. It is touching and involving – a love story and a story of endeavour in the stormy and uncertain waters of theatrical achievement. Thine is it that our drama did not die..' Frank Barrie – Actor
'A powerful book, Jacky, I enjoyed and was stunned. Stunned by the bloody mindedness of those overseeing the arts in Wales…by the bravery of you and Simon…' Janet Pate – Actor
'An exhilarating marvellous read. The obstacles you overcame are testament to your amazing spirit. There's such a warmth in its pages, and the love of the theatre shines through..' Julian Dutton – Writer
'This memoir is part history, part love story – If you believe in the power of love, don't let this story pass you by.' Horatio Nelson – Theatre Cat.
If you would like to read
What Country Friends is This? by Jaqueline Barnes
Please click here to buy from Amazon
Paperback: £15     EBook £9.99     Please buy now:  Royalties go to support the creative work of the Llandovery Theatre Company.  Thank you.