by  Simon Barnes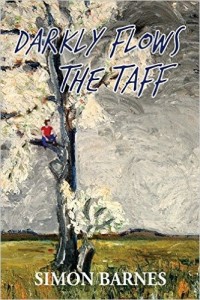 Today we are sending our message to all actors, friends, lovers, sponsors, patrons and benefactors to let them know that Simon left us one novel and it is now published and available on Amazon. You can purchase it from Amazon click here!
DARKLY FLOWS THE TAFF is a comic novel, much in the style of 'Hitch-hikers Guide…' if you cross it with  'Clochemerle'.  It tells the adventures and mis-adventures of a young man – Rupert Courtney Morgan – a James Bond 'wannabe' sent to Wales to discover who killed his colleague, only to find himself dealt a decisive dose of Welsh chichanery in his efforts to discover why his colleague died, and why a deflated rugby ball, a leek, and a copy of 'Under Milk Wood' were left beside the body.
Written in 1986 – when the Llandovery Theatre Company were under its first threat of closure – (there were to be many other threats to follow) – there is, beneath the comic writing of  DARKLY FLOWS THE TAFF, the 'voice' of the author vainly trying to comprehend the world of Welsh wheeler-dealing madness that he finds himself engulfed in.
Reviews of Darkly Flows the Taff
Received by Horatio Nelson – Theatre Cat
Dear Horatio,  Thank you for drawing Simon Barnes' entertaining story to my notice.  It made a jolly good holiday read.  More to come I see.  My love and best wishes for 2016 to Jacky.
Terence Frisby
Actor and Playwright.
Dear Horatio Nelson,
I'm touching wood that you are still running the place and hope you can get a message to Jacky Harrison.
I have just put Simon's book down, and wanted Jacky to know I loved the imagery e.g. when Rupert enters an empty bar 'three lonely bar stools stood huddled together at one end of the counter, wooden memorials to a lunchtime session.'  Sheer poetry my dear!
I hope Jacky has success with Simon's book and would like to be informed when 'What country, friends, is this?' becomes available.
Peter 'Stanbury' Stayne
Writer.
I thoroughly recommend this light-hearted, humorous and well-written murder mystery, and very much hope it goes into an audio edition so other blind people can enjoy it.
Hope Booth – King of Hay Bookshop
A highly entertaining, spy, detective novel set in Wales, exposing the vagaries & machinations of several organizations in that country related to the Arts. Enormously entertaining, witty & fun!
Nick Simons
Simon Barnes as Actor!
Seeking more Information on Simon Barnes' comic novel DARKLY FLOWS THE TAFF  have a look at:
Llandovery Theatre Facebook page
Blog: Horatio Nelson – Theatre cat!
Or to  purchase it from Amazon click here!