EXTREME FRINGE THEATRE COMPANY
BATTLE TO BUILD
LLANDOVERY THEATRE 1976 – 1997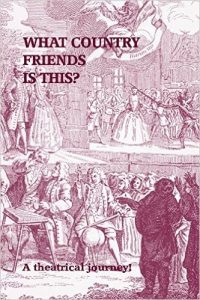 The history:
Rejected for funding by the Welsh Arts Council, Arts Council Wales and vilified publicly and continually by the West Wales Arts Association and its Chairman, whose mantra – 'Get rid of the Barnes' – continued for over 20 years!
So strapped for money, the Barnes' pledged their home against the Theatre overdraft – yet 20 Arts Festivals were produced, countless new plays written: comedies, satires, dramas, pantomimes – work with professional, community and youth actors flourished –  and there is a beautiful Theatre in Llandovery – here for all today. The Barnes' named by an actor colleague – her 'Beloved rogues and vagabonds' – and the children of Llandeilo Secondary School – Tregib – writing to the Welsh Arts Council : 'We love Llandovery Theatre'.
Read all about it!
WHAT COUNTRY FRIENDS IS THIS?
the Memoir of  Simon Barnes and Jaqueline Harrison
Act 1.   1964-1973   The start of the Love Affair.
Act 11  1974-2006   The squirrel leap into Wales
Act 111 2006-2015   The search for a 'Reckless band of angels!'
WHAT COUNTRY FRIENDS IS THIS? was 'launched' at Llandovery Theatre on Saturday September 17th.
The memoir is available  in paperback £15 and ebook £9.99 obtainable from Amazon.
Review – "This should be Theatre Book of the Year!"
It is for everyone who admires courage, passion, detection, love stories, dedication, wit & humour. Simon Barnes & Jacqueline Harrison met at Colchester Repertory Theatre in the 60's, fell in love, married and 'emigrated' to Mid Wales in the 1970's. They renovated & built their own home on the outskirts of Llandovery, They started the Llandovery Theatre Festival & coming across a disused Reading Institute decided they would convert it into possibly the most beautiful small theatre & Arts Centre in the Kingdom. They wrote and directed their own plays, performed and adapted classics, wrote & performed pantomimes, taught & worked with Young Farmers groups, educationally disabled children & against the most appalling odds & skulduggery, realised their dream. Its a 'must read', for detective novel fans, medical drama fans & fans of love stories & humour!. Seriously, an inspiring, entertaining & brilliant read. Go for it!
Nick Simons