A jewel set in the shadow of the Black Mountains
Dear Llandovery People,
Do you know your town?
Do you know STONE STREET?
According to Abercook's book Pages from the History of Llandovery (p.246) – by the beginning of 19th century, the Williams family of Llwynywermod Park owned most of the land east of Stone Street, which at that time were all fields.
There was the Black Lion (late Peglars stores) which stood at the southern edge of open land, but nothing else on the east side.
(Do you recall Peglars with its 'change on wires' ? Still there in 1970s!)
Williams of Llwynywermod ownership included in 1841, two fields on the farther side of Llanfair, known as workhouse field and field above the workhouse!  (Now our GP Surgery.)
Names to wonder at, perhaps even to fear, don't you think?
1846 Following an act of Parliament, ERASMAS Williams of Llwynywermod gave a 99 year lease to the Carmarthen Council to build the BRITISH SCHOOL, and a road to be called VICTORIA CRESCENT to access it. This school was to be for the education of children and adults or children only of the labouring manufacturing and other poorer classes in the Parish of Llandingat and was to survive in perpetuity for the length of the 99 year lease.
The British School was moved around 1914 and so Carmarthen Council had to buy out the lease in order to sell the building and It became the Institute and Reading Rooms,  later the Victoria Crescent side was a Cinema, much enjoyed, but by the 1970s the building was basically derelict.
Two penniless, foolhardy actors stumbled on it one summer day 1975 and thought it would make a theatre. That derelict is now LLANDOVERY THEATRE.
Do you know your Theatre?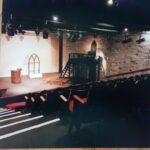 Llandovery Theatre is a Charity, owned by Trustees. It is your theatre, for your pleasure and joy, and over the past 40 years has worked with both professional and community actors, artists and musicians and many, many local children and young people. It has had its great and its grave days!
It was the first theatre in Wales to be awarded an EEC grant 1980 but from that date it has never received funding from The Arts Councils or Local authorities in any of its names and changes of name.
'I am extremely vexed at finding a set of strolling players have again this year made their appearance in the town (Llandilo). How is it we are more backward than our neighbours at Llandovery? No sooner did the players, both this year and last, set foot in the town than they were instantly compelled to withdraw.'
So spake the Vicar of Llandilo,
'Address to his Parishioners on the Pernicious Effects of Theatrical Amusements' printed in a booklet by the famous Llandovery press in 1842.
It seems the Player always has had a hard time! I suggest ERASMAS Williams might not have approved either! Though maybe I do him an injustice! For the only books we managed to salvage from the dereliction of the Institute and Reading rooms were plays! Battered and bruised they were, but we did perform 'The Provoked Wife' from one of the torn editions.
Still, it does puzzle me that it is often the highly privileged and  educated persons who manage to find something to rail against in the performance or presentation of plays. Is it perhaps they fear the power of rhetoric, they envy and so decry?  Subject, as Chechov might have said, for a short story!
We are the music makers !
We are the dreamers of dreams!
Please look at Llandovery Theatre web page, and see how amazing, how beautiful your Llandovery  Theatre is. All it needs is funding!
Thank you for listening!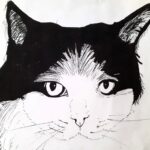 Horatio Nelson
Theatre Cat
---
Dear Friends of Llandovery Theatre,
It is the new year 2023, we, at the theatre, are trying to recover from the forced closure during the pandemic, and though we have no funding, we are making plans to reopen, when CATASTROPHE STRIKES!
January 10th, the Retaining Wall that holds up our ground in Stone Street, collapses into the road. That afternoon, we are emailed by the County Councillor, Handel Davies and Highways Officer, and ordered to rebuild, and to get the wall completed before the Eisteddford. Two weeks later, Highways Officer emails me 'Failure to expedite work at this location will result in the issuing of a notice under Section 167 of the Highways Act 1980.'  I feel bullied! The wall is repaired, and we pay the costs.
We don't think we own this wall, our Deed 1856 shows we do not. We researched further, and find there is a UK Law on Retaining Walls on PUBLIC HIGHWAYS.
'Retaining walls are classed as the Highways responsibility if to support the highway and if the retained height is 1.36 metres or more and if they are both above and are within or above 3.6 metres of the highway.'
19 July 2020
Alwena Jones and Bright Solicitors
We examine our criteria.
The wall was built in early 1800s when upper Stone Street was being developed.  In order to widen the highway (support the highway) the Carmarthen Council needed more land. They cut back into Llynwernwood field. The field was 4′ 6″ above the road and had to be supported with a stone wall retaining the ground and land above. Thus a Retaining wall 8 feet high was built in Stone Street.
We fulfil all criteria.
Carmarthen County Council Highways are responsible for maintenance of the RETAINING WALL and the Theatre is not.
We report all to CCC in a series of letters from April 14th to May 17th, and in letter 3, we relate the LAW.
We receive reply from Linda Rees- Jones,  Head of Administration and Law , Monitoring Officer Carmarthen County Council.
She writes Paragraph 2.
'As I said , we have no records at all of this property, neither are we aware of it being a highway retaining structure, indeed the recent collapse did not affect the highway which rather points to it not being a retaining structure.  From a Land Registry search the wall appears to be within the boundary of your title. '
It isn't relevant to the debate what knowledge the Carmarthen County Council don't have or were not 'aware of' or the opinion on this that 'rather points to ' or 'appears to be' as made by the writer, because there is a UK Law on retaining walls on Public Highways  which supersedes all, and applies in this case.
Legal letter continues.
'We do not intend to do anything further in response to your email '
I don't know when the LAW on Retaining Walls on Highways was first active but, as I understand it, a LAW has to be obeyed. Is that not so?
There were little children in the neighbouring house when the wall collapsed a few feet from their front door.
On their behalf, and on behalf of all the Llandovery community of  Stone Street , please Carmarthen County Council accept your  responsibility without delay, do not prolong the debate into litigation territory.
So, my friends, if anyone has the ear to power of our County Council I beg you to use it.
Jacky Barnes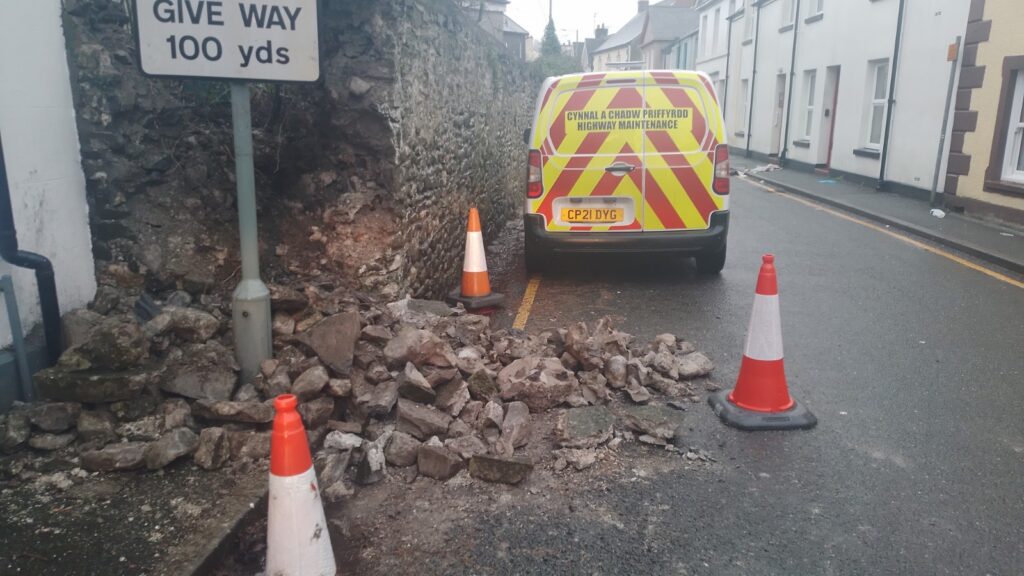 HORATIO NELSON – Theatre Cat!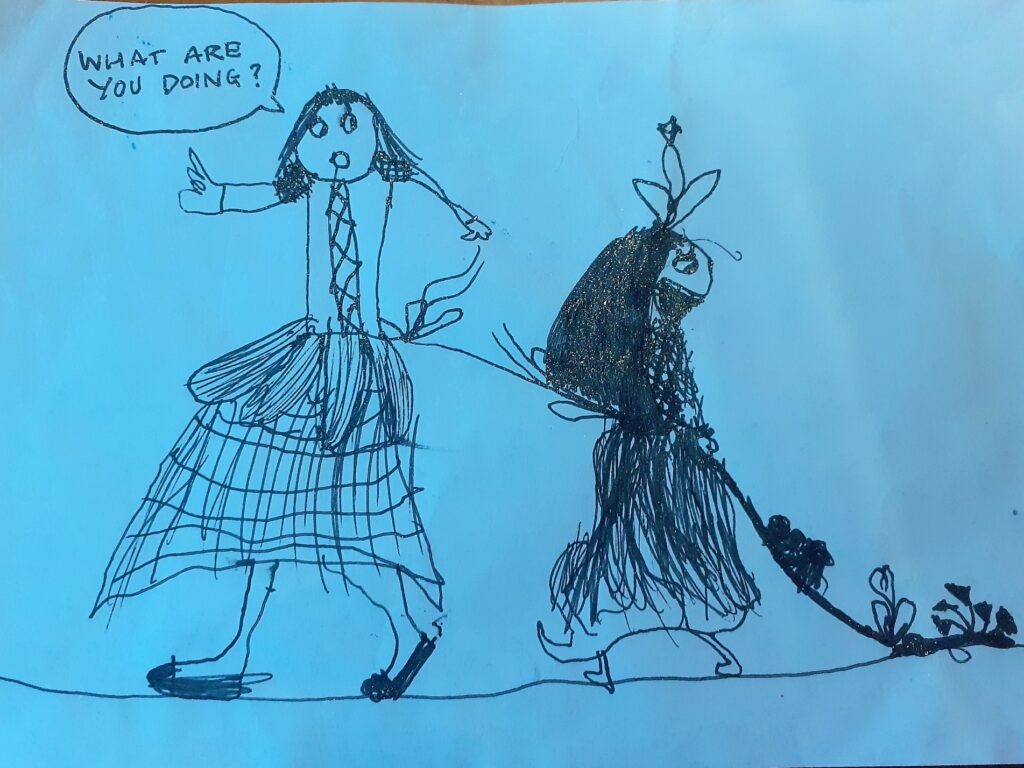 Friends, colleagues, actors, and all good people of our ancient town of Llandovery, formally the Roman town of ALIBUM,  lend me your ears!
It is I, Horatio Nelson, Theatre Cat of Llandovery calling to you from my celestial star to answer the question above.
WHAT ARE YOU DOING?
Like many Theatres, all over the country, LLANDOVERY THEATRE was forced to close due to the pandemic, though we were not inactive, as we love our Theatre and with the help of friends kept it safe and beautiful.
In the past year we have been working to be able to be active and welcoming to the visitors to the Urdd Eisteddfod when tragedy struck!
A blistering hot summer last year, followed by torrential rain and in November 'the ice age'! The roads and pavements so dangerous that no self-respecting cat would venture out, but when the ice melted – DISASTER!
The WALL outside the Theatre in STONE STREET collapsed into the road; described as sounding like two strikes of lightning , as first the innards of the wall fell like an avalanche, and then the lintel crashed down after. Mercifully no-one was hurt! But I have to say Jacky had, what might be termed a grade 6 nervous breakdown at the news.
There followed weeks of search for professionals to rebuild, while we examined and reassessed the damage and how to put it right.
We stared and stared at the debris and the wreck when suddenly it dawned on us.
Did we actually own the WALL in Stone Street? We examined the early deeds of the BRITISH SCHOOL, (now Llandovery Theatre) when in 1867 the Llynwernwood Estate gave a field of 851 sq yards for the building of a school for adults and children of the poor in the Parish of Llandingat.
The Stone Street WALL is around 200 years old, built in stone (what else!) with lime mortar, it's foundations are in Stone Street and it is built against four feet of soil,  It is a HOLDING WALL!
Stone Street is marked on the Surveyor's drawing of 1867, and, therefore the WALL in Stone Street, holding up 4 feet of ground, predates the gift of land from the Llynwernwood Estate to build the British School in 1867. Ergo, the WALL does not belong to the Theatre.
We have written to our County Council and explained that the WALL in Stone Street was the property of the Carmarthenshire County way before 1867 and they are the owners today on behalf of the good people of Llandovery and Llandingat, and not forgetting Llynwernwood, the home of King Charles 111 when he was our Prince of Wales.
We theatre people are obedient folk, and when the County Council told us to mend the wall, and get it rebuilt before the Urdd Eisteddfod, we obeyed!
If you know Stone Street , go and have a look at the restoration.  It is the work of Dylan Thomas! No, not the actor poet but certainly an artist in stonework!
We expect to hear soon from our County Council and patiently await their response.
In the meantime Llandovery Theatre can turn attention to creative projects, plans for a film on the history of the building from its early days and what about a FEMALE VOICE CHOIR?  Stand up comedy? A production of UNDER MILK WOOD – these are just some of the dreams we dream of.
So friends, if you are interested to be involved and help us re-open our building and make our theatre available for all to enjoy, please, please contact us – go on our Web page Llandovery Theatre.com and Facebook and leave us a message , tell us what you can do for us, and what we can do for you.
Thank you, and here's hoping for a wonderful spring and warm but gentle summer.
Horatio Nelson
Theatre Cat
Llandovery
Stone Street and Victoria Crescent
P.S.   What are you doing?
The drawing is by Gwennie aged 6, daughter of Charlotte Turtle , the caption is by Gwennie's Dad , age unknown to the writer!
---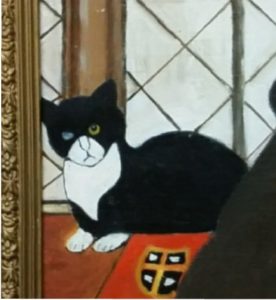 From my celestial window-sill.
Welcome – let us all seek to find at least five good fun ideas a day to help lift our spirits. In line with this aim, may I suggest you have a look at Simon Barnes' comic novel DARKLY FLOWS THE TAFF.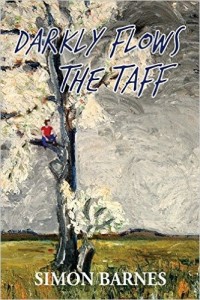 The book – a satirical comedy thriller set in 1986 – pays homage to Hitchikers Guide with a mix of Lucky Jim and James Bond (shaken but not stirred) and echoes a landscape as bizarre as Clochemerle.
Rupert Courtney Morgan, a young inexperienced 'agent' is sent to Wales to investigate the death of a government inspector found dead on the Brecon Beacons – with a copy of Under Milk Wood and a deflated rugby ball by the body. The culture of Wales is most emphatically rugby – it reigns supreme over all other arts and crafts, so here must be a clue!   Follow Rupert is his quest to unearth the truth and avoid death in DARKLY FLOWS THE TAFF!
Simon Barnes, Actor/Writer, founded Llandovery Theatre, writing plays and directing professional and youth actors from 1975 for over 35 years!
REVIEWS AND COMMENTS – Llandovery Theatre.com
For information and totally unbiassed editorial on Darkly Flows the Taff go on: Llandovery Theatre Web page or the Theatre Face Book page, and read some of the amazing reviews and comments on our books. All books are obtainable in paperback and ebook and can be ordered via Amazon.
Darkly Flows the Taff: £7.99 Ebook 3.98 and profits go to the theatre.    
'I am blind so my husband read this witty and amusing book to me – sometimes I laughed out loud! We both loved the book…. Hope and Richard Booth of King of Hay on Wye Bookshop.
Do read Simon's book!
---
Building a Dream 1976 – 1996 – 2020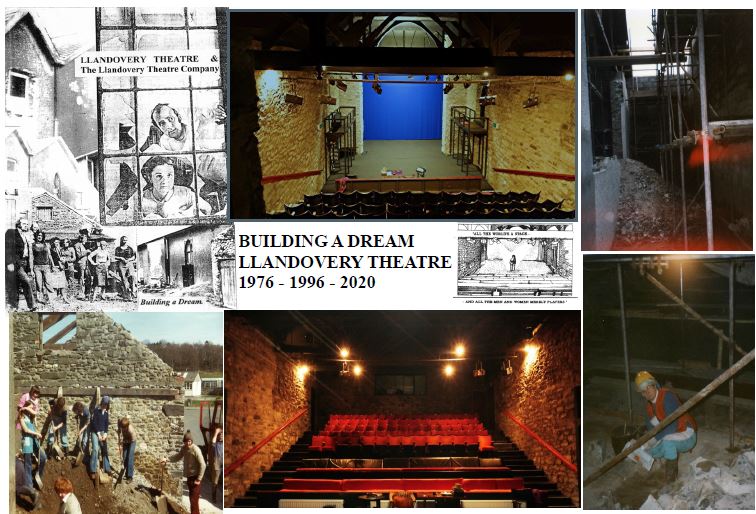 We are the Strolling Players – We are the Storytellers!
'You are just telling stories!' When I was young this meant you were telling 'fibs' – but this is a true story – a love story, a tale of a lifelong love affair with theatre and the Building of a Dream!
Do you like theatre? I think if you have managed to stray onto our web page, and are still reading – then – yes, you like theatre. Good! Welcome!
We heard recently that a London Theatre roof collapsed on the heads of the audience watching a play; we hear that museums in the North of England are having to place buckets to catch rain coming through their roofs. We, at Llandovery Theatre, have experienced both in some measure – for on finding our 'gem' – it was in such a state of decay that at one stage, the Job Creation builders refused to continue working!
See the picture above – it is not a rough sleeper trying to find refuge, it is our artistic director (1995). It is 4 p.m. – the builders have gone home and she is alone (apart from the photographer) and over the next weeks, they will both be moving the stone from the demolished back wall – into barrows and out onto a skip – thus saving the theatre £1,000 in building costs.
It was the final part of the Llandovery Theatre building journey – a trip started in 1977 – a 21 year adventure including 40 years of theatre performance! We were not always alone – see the picture of a group of Llandovery Young Farmers – we had just directed them in Oh What a Lovely War – and they gave us a day's work: – moving a mountain of earth dug out to enable the stage area to be lowered and a raked auditorium built.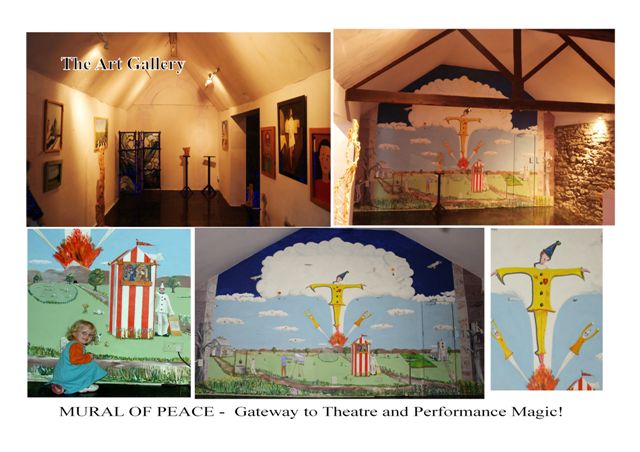 And this is our Art Gallery with its entrance to the theatre auditorium – and yes, we too have had to have buckets catching water but today 2019 it has been restored and our Mural of Peace holds the doorway to Magic!
 The Actor Manager?
Entering 2020 we are at a crossroads! Llandovery Theatre – despite rumours – has never had revenue funding from the Arts Councils, the Lottery or the Local Authority. We were – we are – the mavericks – the strolling players – like Dickens' Vincent Crummles Theatre Company, we are – among the last generation of Actor Managers.
The Pied Piper
It was the children who followed us, who kept our theatre alive – as hundreds attended our literacy and drama workshops, and performed for us, as together, we pursued the dream: to develop performance, reading, listening and communication skills, building self-confidence, imagination and love of storytelling, with the young and not so young, those with special needs as well as those with special gifts.
Our Pied Piper is gone! He has left behind a beautiful building and a big ask!
We are seeking inspirational teachers, actors, writers, stage managers who will come in and develop on from our 35 years, to sustain and support our community and our young people in their life dreams! And for this we need funding!
Are you still reading?
If you think you can help, please leave a message on our contact page above or on Llandovery Theatre Facebook page. We wait to hear from you – Thank you.
Horatio Nelson
Llandovery Theatre Cat!
We are the Story Tellers! Read our Stories!

---
Our Publications
Click the image of your book choice to examine. For the next year, ALL royalties from sales of these books will go to the creative work and maintenance of Llandovery Theatre.  Please buy now!
Horatio Nelson Theatre Cat
Reporting from my starry window-sill!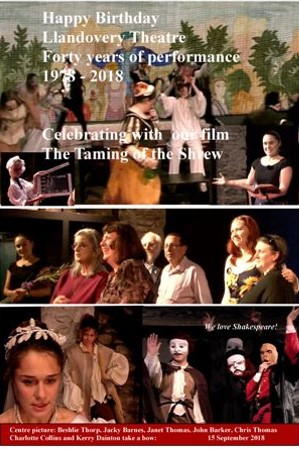 Thank you to all our actors, artists and colleagues for making Llandovery Theatre's 40th anniversary celebrations such a joy!   Forty years is a fine age, Jacky says she wishes it was her age and I, of course, with seven of my nine lives still to go, am forever young!
The showing of our Youth Actors' film The Taming of the Shrew was the set piece of the celebrations – and I have to confess I shed a few tears – to look back the 14 years to when it was made – to see the wonderful performance work of the young actors, and remember the fun we all had making the film.
In the centre picture: Beshlie Thorp, Janet Thomas, Charlotte Collins and Kerry Dainton are all ex youth actors – John Barker and Chris Thomas – our first and final editors on the film. John is an 'ancient' friend – he brought Simon and Jacky to Wales in 1973, driving the lorry with all their goods and chattels, (not to mention Jacky's potted plants) – an event re-told in her comedy play 'Out of the Frying Pan' performed in 1985 –  so John is really responsible for what has gone on in this theatre for the past 40 years!  Chris is the miracle worker that brought the film to life, and he and Jacky are still meeting to make it really perfect before turning it into a DVD.
As Christmas is on its way, I need to remind you that there is a really fun book available to give as a present – Darkly flows the Taff –  about a would-be James Bond, set adrift in West Wales to uncover a murder  – and, though it does not have any cats in it, it is a splendid read – written by Simon Barnes – available as an ebook or paper-back via Amazon. Read the reviews on our theatre web page – they are amazing!
We wish everyone a Very Happy Christmas and a Peaceful New Year!
---
The Taming of the Shrew
Watch The trailer;

Welcome to Llandovery Theatre 
We discovered this 'treasure' in 1975, when it was in poor health, decaying and near derelict. We fell in love with it, and despite warnings of  'you'll never do it'  we gathered round us a small team of stalwarts and began building work, producing Festivals and writing plays.  With no funding from the Arts Councils, local authority or lottery, it was to take 20 years to complete the theatre, though creative work continued throughout, and is ongoing to the present day .  (See Theatre History)
Our DRAMA WORKSHOPS with a group of young performers, who have disabilities, are proving happy and exciting.  (See Drama Workshops)
And we have 'ROYAL' ASSENT for SIMON BARNES comic novel – DARKLY FLOWS THE TAFF.
Richard Booth – King of Hay – read Simon's book, and immediately offered to promote it as the 'lead' book at his King of Hay Bookshop, Hay-on-Wye, throughout Spring and Summer. He also read the book to his wife Hope, who is blind, and she sent us a splendid review of the book, which you can read on Horatio Nelson 's Blog. together with other reviews our Theatre Cat has personally received about the book.
Simon Barnes – actor, writer, founder and creator of the Llandovery Theatre, wrote countless wonderful plays and scripts for the Llandovery Theatre Company, working with professional, community and youth actors.  He left this one novel and it is now obtainable at the King of Hay Bookshop, Hay-on-Wye or via Amazon.
(Read all about: Darkly Flows the Taff )
Llandovery Theatre Company survives and thrives by writing and producing its own work, and with the support and affection of its young actors and performers.
For up-to-date information, go to:   Llandovery Theatre Facebook page 
For 'critical' acclaim and personal observations, go to: 
Blog Horatio Nelson –Theatre Cat.
We welcome all interest, support and friendship. Do contact us.
Click on the News tab for latest information.
What they are writing about Llandovery Theatre:
                        Beautiful and atmospheric – preserve at any price ..
  'Possibly the most beautiful small Theatre and Arts Centre in the Kingdom'
Llandovery is a small market town in the upper Towy valley, on the edge of the Brecon Beacons National Park in South Wales, UK.