NEW PUBLICATIONS:
READ ALL ABOUT US! 
 WHAT COUNTRY FRIENDS IS THIS?
The Theatre Memoir and love story of two actors –
Simon Barnes and Jaqueline Harrison –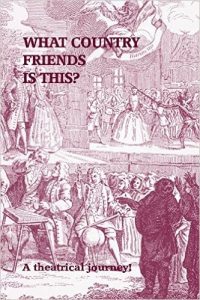 who, in 1975, stumbled on a derelict building in a West Wales market town and began a dream; they built, what has been described recently as 'possibly the most beautiful small Theatre and Arts Centre in the Kingdom'* and then proceeded to fill this theatre with plays and performance, working with professional, community and youth actors for more than 35 years.
Customer Review
5.0 out of 5 stars You can hardly put it down!
By Nick Simons on 14 Oct. 2016
 This should be Theatre Book of the Year! It is for everyone who admires courage, passion, detection, love stories, dedication, wit & humour. Simon Barnes & Jacqueline Harrison met at Colchester Repertory Theatre in the 60's, fell in love, married and 'emigrated' to Mid Wales in the 1970's. They renovated & built their own home on the outskirts of Llandovery, They started the Llandovery Theatre Festival & coming across a disused Reading Institute decided they would convert it into possibly the most beautiful small theatre & Arts Centre in the Kingdom. They wrote and directed their own plays, performed and adapted classics, wrote & performed pantomimes, taught & worked with Young Farmers groups, educationally disabled children & against the most appalling odds & scullduggery, realised their dream. Its a 'must read', for detective novel fans, medical drama fans & fans of love stories & humour!. Seriously, an inspiring, entertaining & brilliant read. Go for it! Nick Simons
'Your love for the theatre and each other pours out of the book and is most moving, amusing and always gripping.  Congratulations on it, Jacky, and what is represents.  What a record!  You have all my respect and admiration ' Terence Frisby – Playwright
'Your book arrived today and has been DEVOURED.
It is most beautifully and sincerely written in a quite different style from usual theatrical biographies.  It is touching and involving – a love story and a story of endeavour in the stormy and uncertain waters of theatrical achievement.  Thine is it that our drama did not die..' Frank Barrie – Actor
'A powerful book, Jacky, I enjoyed and was stunned.  Stunned by the bloody mindedness of those overseeing the arts in Wales…by the bravery of you and Simon…' Janet Pate – Actress
'An exhilarating marvellous read.  The obstacles you overcame are testament to your amazing spirit.  There's such a warmth in its pages, and the love of the theatre shines through..'     Julian Dutton – Writer
What Country Friends is This?
---
DARKLY FLOWS THE TAFF
Simon Barnes
A comic novel satirising the mis-adventures of Rupert,
a young would-be James Bond,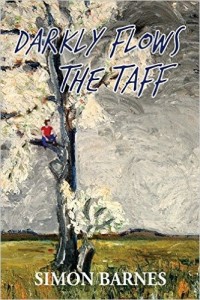 sent to Wales to investigate a death on the Brecon Beacons of a Government Inspector, who finds himself plunged headlong into an Arts Tafia conspiracy group who aim to keep him from all knowledge by a series of false trails and near-death experiences. 
Reviews of  Darkly Flows the Taff
received by Horatio Nelson – Theatre Cat
Dear Horatio, Thank you for drawing Simon Barnes' entertaining story to my notice.  It made a jolly good holiday read.  More to come I see.  Terence Frisby – Playwright.
'A highly entertaining spy, detective novel set in Wales, exposing the vagaries and machinations of several organisations in that country related to the Arts.  Enormously entertaining, witty and fun!'  Nick Simons – Actor
Dear Horatio Nelson,
I'm touching wood that you are still running the place and hope you can get a message to Jacky Harrison.  I have just put Simon's book down, and wanted Jacky to know I loved the imagery e.g. when Rupert enters an empty bar 'three lonely bar stools stood huddled together at one end of the counter, wooden memorials to a lunchtime session.'  Sheer poetry my dear!   Peter 'Stanbury' Stayne – Writer.
Darkly Flows The Taff:  Greatly enjoyed: splendid page-turner, quirky characters, very nice local atmosphere and fun take on Bond and naïve Englishman out of his depth in Darkest real and mythical Welsh Wales…   Michael Poole – Actor
I thoroughly recommend this light-hearted, humorous and well-written murder mystery, and very much hope it goes into an audio edition so other blind people can enjoy it. We both loved it.   Richard and  Hope Booth – King of Hay Bookshop
---
DON'T MISS!  the latest publication from us!
VIGIL FOR THE DEATH OF INNOCENCE
Jaqueline Harrison Barnes
A political tale of good versus evil.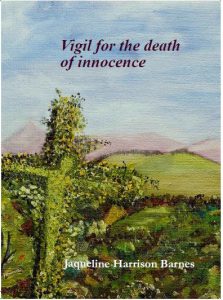 A corrupt and bankrupt government intent on unleashing the dogs of war versus a small group of innocents who cross their path with a miracle.
Go to Horatio Nelson Blog and read the bumpy route to publication of this novel
VIGIL FOR THE DEATH OF INNOCENCE.