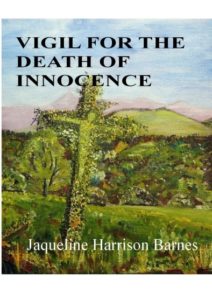 A Political Thriller.
A weak and bankrupt government,
intent on unleashing the 'dogs of war'
versus a small group of innocents
who cross their path with a miracle.
TWO MEN, from different worlds – one black, one white, collide in a car crash. One is seeking death, the other destined to die! As their lives and imminent deaths collide, the Government sales of arms and plans for war are exposed as the security cameras in the Tower of London blaze out to the world, images of a circlet of thorns beside the Crown of England, and the Tower computers start to send messages of love and cries for peace that cannot be stopped. Truth and love in a battle against destruction!
Maria: What do I know that they hunt me down?
Eric: You know a truth – they want it silenced!
A political thriller, set in London -' Tomorrow and tomorrow and tomorrow'
****************************************************************
What they say about Vigil!
'I have just read your book Vigil – it is riveting from first word to the last. It is such a good read – So relevant today' Caroley Bergman – Artist.
'Mrs Barnes is a great storyteller – her characters are real, dialogue excellent, she's an actor you see! Locations and settings are vividly described ..It's a roller coaster thriller ..I highly recommend it.' Nick Simons – Actor.
'Just finished your BRILLIANT book. Fantastic read! Recommend it to All! Suspenseful, Tragic, poignant, funny, touching, you name it, it was all there and more. I loved it. When's the next one coming out?! Can't wait!' Rudi Christopher.
If you would like to read
Vigil for the Death of Innocence by Jaqueline Harrison Barnes
please click here to buy from Amazon
Paperback: £10.99 EBook £ 4.99 Please buy now! Royalties go to support the creative work of the Llandovery Theatre. Thank you.