HORATIO NELSON – Theatre Cat!
From my celestial windowsill.
Dear Actors, Artists, Patrons and Friends,
I am finding it difficult to send you future plans of the work of the Theatre, in the light of all the problems with coronavirus – specially as many of our kind supporters and friends are of an age when they are being asked to confine themselves to home! But creativity always continues for actors and writers, be they alone or on stage, and we will be keeping the theatre safe for the day we are allowed to fill it with friends and performance again.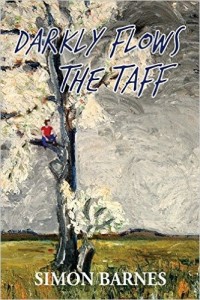 In the meantime, please don't forget us, and let us all seek to find at least five good fun ideas a day to help lift our spirits. In line with this aim, may I suggest you have a look at Simon Barnes' comic novel DARKLY FLOWS THE TAFF.
The book – a satirical comedy thriller set in 1986 – pays homage to Hitchikers Guide with a mix of Lucky Jim and James Bond (shaken but not stirred) and echoes a landscape as bizarre as Clochemerle.
Rupert Courtney Morgan, a young inexperienced 'agent' is sent to Wales to investigate the death of a government inspector found dead on the Brecon Beacons – with a copy of Under Milk Wood and a deflated rugby ball by the body. The culture of Wales is most emphatically rugby – it reigns supreme over all other arts and crafts, so here must be a clue! Follow Rupert is his quest to unearth the truth and avoid death in DARKLY FLOWS THE TAFF!
Simon Barnes, Actor/Writer, founded Llandovery Theatre, writing plays and directing professional and youth actors from 1975 for over 35 years!
REVIEWS AND COMMENTS – Llandovery Theatre.com
For information and totally unbiassed editorial on Darkly Flows the Taff go on: Llandovery Theatre Web page or the Theatre Face Book page, and read some of the amazing reviews and comments on our books. All books are obtainable in paperback and ebook and can be ordered via Amazon.
Darkly Flows the Taff: £7.99 Ebook 3.98 and profits go to the theatre.
'I am blind so my husband read this witty and amusing book to me – sometimes I laughed out loud! We both loved the book…. Hope and Richard Booth of King of Hay on Wye Bookshop.
Do read Simon's book!